Webcomic about Smart Electronic Gadgets, Movie-wise, Superheros and Enlightenment; featuring Cats With Attitude.
Read it here:
– facebook page (English version)
– Google+ page (German version)
– Download the full high-resolution QuadCores book in English (jpg)
– Lade das gesamte hochauflösende QuadCores Buch auf Deutsch herunter (jpg)
The QuadCores crew:
Janus the lucky geek, Ilse his critical friend, Alex the Pacifier, Ive the Daredevil and a cat on the path to spiritual enlightenment.
Currently QuadCores consists of 64+1 strips.
About the authors of QuadCores: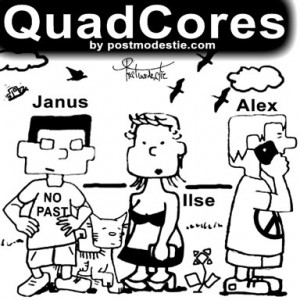 QuadCores Games:
– One Path made for LD48 (Unity-Plugin, Kongregate)
An 'Action-Adventure' where you can jump-and-run on one procedurally generated path in both direction and meet people, which results in multiple-choice moral encounters that determine the outcome of the game.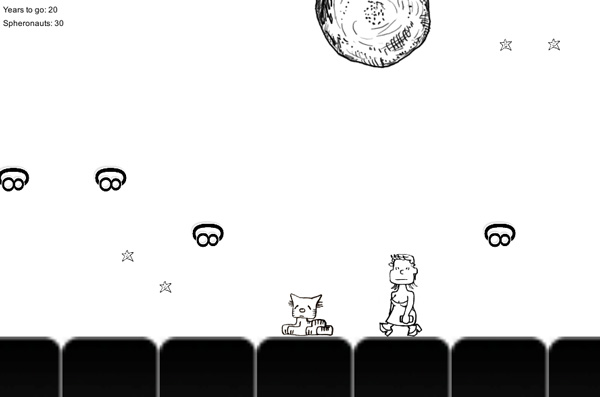 – Pokr. Featuring QuadCores cards
Fast-paced casual game for poker-players to train the memory; for all other players to have fun!
Plays a bit like Tetris, Klax, Pokertris or Gun Dealer (remember the arcades?). but with more strategic depth, as the player decides which poker-combinations to swipe away. Features all real poker-combinations!
Hard-copies of the books have also been seen on remote places: