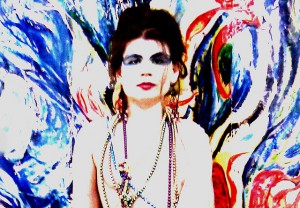 Her music catches, rouses, enchants.
Her songs, her lyrics touch, move, haunt rock n roll, ballades, flamenco, neoclassic, ethno, folk, world into one.
Her voice, her movements are fluent, strong, capturing.
Rough stories about emotions and glimmers of insights, set in intricate, at times monotonous, often mannerist melodies, vocalized with an intensity, which stems from the intrinsic need of expression.
Some songs will be known and dear to you (allthough you might hear them for the first time), others shall surprise you, others will do what they are supposed to do to you, touch you or pass you by.
You can expect sweet and haunting acoustic ballads, ecstatic live play and moving words mixed with humor, longing for change, a search for Life and Divinity embedded in abundant minimalistic rock folk music.
Always fresh, always flowing.
The Piano is her first instrument and big love, with him everything started.
The indie folk rock debut – album songs for urgency – quick and dirty was relased on Postmodestie/Tunecore in october 2010. The album is a mix of pure acoustic studio and live recordings from the time 2004 to 2006 in Vienna/Austria and Zagreb/Croatia.
The album shows what happens when a young girl wants to release an album as quick as possible. Passionate full-length songs, vivid live-recordings without any make-over. The lyrics are honest, critical, ironic, emotionally deep and funny, taking you to different worlds every time you give in. "Often i write a song like painting a picture. I sit and wait in front of the the blank canvas till the painting comes and evolves and then when the moment is right I let it take over and watch where it takes me."
Album Booklet
feel free do download a copy of the booklet with the complete lyrics.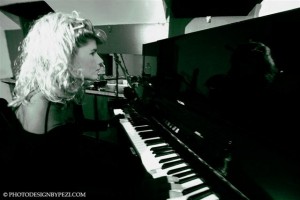 Further Info and Contact
please contact vivian@gjurin.com.
Biography
Born in Zagreb/Croatia, lives in Vienna/Austria. As a child she already loved to play on the piano what ever came to her. Since she watched the movie Carmen her love for dance and music (and Placido Domingo) was inflamed and she organised music, dance and poetry recitals with original material for family and friends.
Later she started to write her own songs and then her "Croatian Bob Dylan" uncle Damir Posa asked her to sing a duet with him. This single Suzy was released by the unique strings company Thomastik Infeld. Thus she gained enough confidence to start to sing her own songs.
French and Philosophy she chose for studying since she fell in love with Paris. Her thesis is about the problematic nature of emotional attachment to words in the work of her favourite philosopher Georges Bataille. Other works about Marquis de Sade, Octavio Paz. Pier Paolo Passolini and others in German here – Amazon
Since 2004 she performs her own music on stage. Solo and with fellow musicians Daniel Pergamentschikow and Iko Mindadze as well with her uncle Damir Posa she toured the clubs of Vienna and paid concert visits to Paris, Belgrade and Croatia.
In 2007 Janus Hrynkiewicz-Sudnik and Vivian founded an art gallery in Vienna – Postmodestie – dedicated to young beautiful opulent art. Their efforts and exhibitions culminated in a music and art festival reduit Mondriana.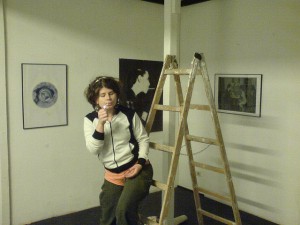 In 2010 the gallery became a virtual gallery and a label for old and new media – fine art, music and android applications specialised on spirited and spiritual Android Applications and Games.
In 2010 she released her debut album Songs for Urgency – Quick and Dirty a mix of acoustic studio and live recordings from the time 2004 to 2006.
An ongoing project are the PreCollections – all songs in one place. A retrospective with a taste of presence.
Along with Damir Posa, Zele Lipovaca, Ismet Kurtovic and Zdene Juric she recorded a jam with some of her and Damir's songs in Croatian.
An excursion into the techno world resulted in the downtempo dance song Don't You produced by Viennese own CrisCo.
Then a break from music happened since life decided to show her its depth through physical restrictions. And a new dawn broke.
Now she is writing songs and poetry about love and words, and essays or poetic prose about the internal fight, pain, being, understanding, realisation, freedom, thoughts and reality, and furthermore about the female sexuality.
New music soon to come. A little different, a little subtle, but very fresh and very daring.